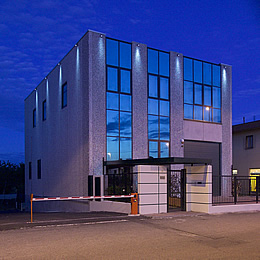 IMP.ELECTRIC Srl was created in 1985 to provide sound technical solutions for the Industrial, Service and Hospital sectors.
The specific and thorough experience of our engineers and technicians allowed us to grow and develop.
Our capacity to meet and implement our customers' requirements allowed us to obtain the Italian qualification certificate for the execution of public works in the OS19, OS30, OG10 and OG11 categories, as well as the ISO 9001:2015 Quality certification and ISO 14001:2015 Environmental Management System certification.
The strengths of our operating philosophy include constant personnel development and training, complemented by a careful attention to the developments of Italian and European regulatory compliance and safety legislation.
As a natural consequence of this strong approach, IMP.ELECTRIC has been able to grow and substantially increase its turnover.
Over the years, IMP.ELECTRIC has acquired important orders in the hotel industry, in the hospital sector, and in the construction of public, sport and military facilities.
With the successful performance of these works, we have achieved a high level of specialization in the design and installation of special systems, including monitoring systems, sound and speech diffusion, intrusion detection, and fire protection systems.